501-7 Corner Sit Stand Electric Adjustable Height Desk
Model

CON-501-7
Brand
Vendor
Condition
Gift Wrapping
Weight
Perfect corner sit stand desk for that remote corner of your office or loft. Lower it down to 27" and use your office chair or stool or raise it to stand and work. Maximum top height is 47.5" from the floor so this fits the 5th to 95th percentile of users! This adjustable height corner desk comes in silver or black frames and two top finishes. Two popular top sizes of this corner standing desk will conform well to any corner or open space. This ergonomic corner desk is easy to assemble and comes with clear instructions. This standing corner desk ships free in as little as 5 days. 5 Year Conset Factory Warranty. We can also arrange for placement in your space or complete placement with assembly upon request. Corner sit stand desk is modular and does arrive in several easy to manage cartons. This ergonomic corner desk is made in the USA and Denmark.
Silver or Black frame finish

Beech or Maple tops

1" thick laminate tops in four popular shapes and sizes

Metal and aluminum under-structure

Twin casters for easy mobility

Smooth electric motor lift and lower

Work-surface range of 27-47.5"

Switch activated height controller

Optional programmable keypad with 3 preset heights

Ships Free in 5 Business Days or less
5 Year Factory Warranty 2 Years on motor
Top Selector Guide
117H Heart 46.4" W x 35.4" D

138H 120° corner 54.3" W x 36.3" D

120H 90° corner 65.8" W

140H Soft corner 55.1" W x 35.4" D

42-30S Small rectangle 40" W x 20" D

48-30S Large rectangle 46" W x 29" D
Silver or Black Pedestals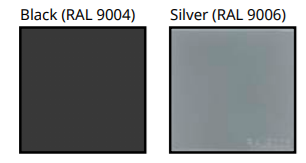 Laminate Colors
Options: Add this great Easy Goes It Anti-Fatigue Mat that will help reduce foot, leg and back fatigue so you can stand more while using your sit to stand desk.
Read more about this Easy Goes It Anti-Fatigue Mat here
3/4" thick 100% polyurethane foam

18"D x 30"W x 3/4" Thick
ConSet A/S is a manufacturer of sit/stand tables. The company was established by 3 engineers in May 2000. It was our belief that sit/stand tables were too expensive. We decided that we would strive to offer these products at prices that would make them accessible to everyone. We succeeded quite well. In cooperation with others we have experienced a trend of constantly decreasing prices. Sit/stand tables are already demonstrating promising growth in the US market. ConSet A/S is a well-founded company experiencing constant growth both in Denmark and abroad.
Parts are guaranteed for two years, however, seller MAKES NO WARRANTIES, EITHER WRITTEN, ORAL, EXPRESS, IMPLIED, or STATUTORY relating to the LIMITATION OF goods purchased from or through seller. RESELLER HEREBY EXCLUDES ANY WARRANTY OF BUYER''''S REMEDIES MERCHANT ABILITY OR FITNESS FOR A PARTICULAR PURPOSE. Buyer waives all claims against seller relating to goods purchased from or through seller, and agrees to assert all claims for breach of warranty, contract, or tort against the manufacturer of the goods. The parties agree that buyer''''s sole and exclusive remedy shall be for the repair or replacement of defective goods by the manufacturer in accordance with the manufacturer''''s customary warranty. All specifications and engineering information have been obtained from the product manufacturers for buyer''''s convenience only. Seller does not assume responsibility for accuracy of the information provided by the manufacturer.
Motor: 2 years
Metal Parts: 5 years