501-37 Laminate Electric Sit-Stand Desk
Model

CON-501-37
Brand
Vendor
Condition
Gift Wrapping
Weight
The 501-37 is a great new open design model by Conset. Approved according to ANSI/HFES 100-2007 Human Factors Engineering of Computer Workstations guidelines. This is the most in depth and current ergonomic standard in the world stating that this desk will fit users from the 5th to 95th percentile by having the working surface adjust in height from a low of 22" to a high of 48". Conset has its roots in Denmark and this product reflects the high standards so typical of Danish furniture. This sit to stand table/desk Ships Free in as little as 7 business days. Easy to assemble and is backed by a 5 Year factory warranty!
Heavy duty metal frame and base in Black, White or Silver

The three stage frame is tested and approved according to ANSI/BIFMA X5.5-2014

Adjustable floor glides or 75mm optional locking rubber wheel casters (will raise working heights by 3")

220 lb. desk top load rating

Switch activated electric motor (110v)

Optional programmable keypad with 3 preset heights

1" thick tops in Beech or Maple laminate

5 different top sizes

Automatic safety stop

Optional metal framed adjustable CPU holder for under desk mount

Meets RoHS electrical standard

5 Year Factory Warranty on parts and structure 2 Years on motor
Ships Free in 7 Business Days
Dimensions
Frame height ranges from 22" to 48"

Available in 4 widths: 44 1/8 – 50 3/4" – 59 7/8" - 67" 11/16 AND an adjustable width 44 1/8" - 59 7/8"
Features: 3 finishes, 4 heights OR one adjustable height frame, glides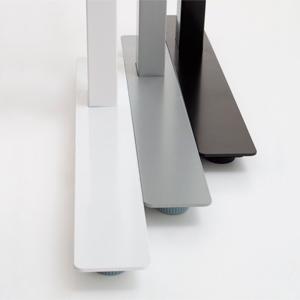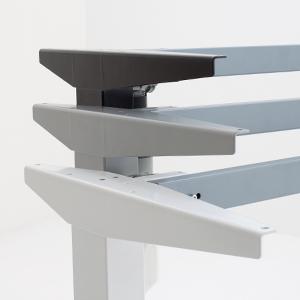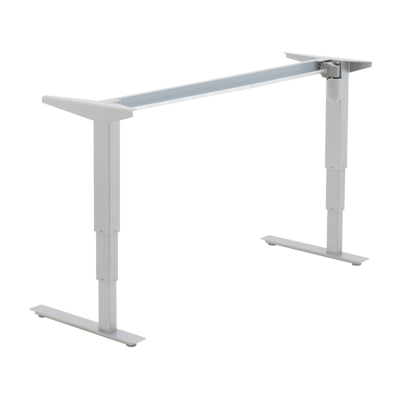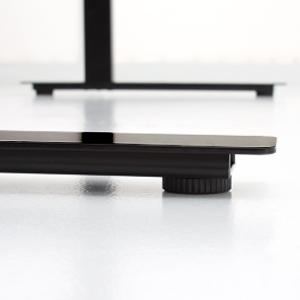 Laminate Surface Colors
Options: Add this great Easy Goes It Anti-Fatigue Mat that will help reduce foot, leg and back fatigue so you can stand more while using your sit to stand desk.
Read more about this Easy Goes It Anti-Fatigue Mat here
3/4" thick 100% polyurethane foam

18"D x 30"W x 3/4" Thick
Base Dimensions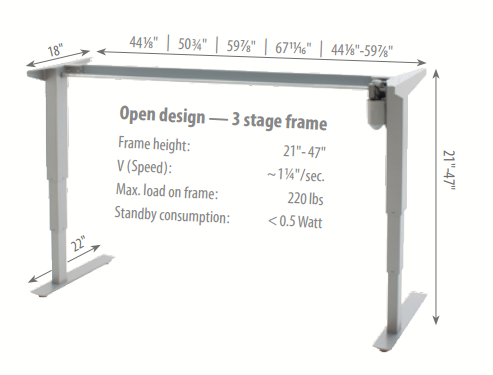 ConSet A/S is a manufacturer of sit/stand tables. The company was established by 3 engineers in May 2000. It was our belief that sit/stand tables were too expensive. We decided that we would strive to offer these products at prices that would make them accessible to everyone. We succeeded quite well. In cooperation with others we have experienced a trend of constantly decreasing prices. Sit/stand tables are already demonstrating promising growth in the US market. ConSet A/S is a well-founded company experiencing constant growth both in Denmark and abroad.
Parts are guaranteed for two years, however, seller MAKES NO WARRANTIES, EITHER WRITTEN, ORAL, EXPRESS, IMPLIED, or STATUTORY relating to the LIMITATION OF goods purchased from or through seller. RESELLER HEREBY EXCLUDES ANY WARRANTY OF BUYER''''S REMEDIES MERCHANT ABILITY OR FITNESS FOR A PARTICULAR PURPOSE. Buyer waives all claims against seller relating to goods purchased from or through seller, and agrees to assert all claims for breach of warranty, contract, or tort against the manufacturer of the goods. The parties agree that buyer''''s sole and exclusive remedy shall be for the repair or replacement of defective goods by the manufacturer in accordance with the manufacturer''''s customary warranty. All specifications and engineering information have been obtained from the product manufacturers for buyer''''s convenience only. Seller does not assume responsibility for accuracy of the information provided by the manufacturer.
Motor: 2 years
Metal Parts: 5 years